SENSORS

The National Centre for Sensor Research (NCSR) at DCU is a world renowned, large-scale, multidisciplinary research facility focused on the science and applications of chemical sensor and bio-sensors. For further information please see http://www.ncsr.ie/

NCSR Overview


CMAS: Portable Water Analysis System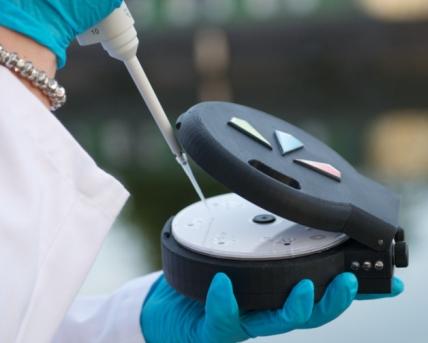 A portable analysis system for use in the field, based upon centrifugal microfluidic technology to perform colorimetric analysis of samples, such as analysis of pH and nutrients in water. The analysis requires small sample quantity and utilises disposable CD discs which are pre-loaded with the test reagents. The device is fully integrated with wireless connectivity to a phone or tablet.
Optical Probe
A handheld optical probe for the detection of chemical and bio-chemical analytes. The design of the probe enables highly efficient capture of luminescence resulting in improvements in detection performance of one to two orders of magnitude compared with conventional optical fibre-base sensor probes. The optical probe has been successfully demonstrated for the detection of dissolved oxygen, dissolved carbon dioxide and in-breath oxygen analysis and is suitable for use in a range of applications including: breath analysis, environmental, bioprocess and industrial process monitoring.
This technology is available via the DCU Licence Express Scheme.